Myth, Memory, and Canadian History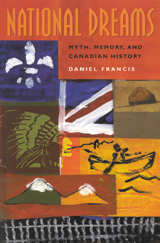 Table of Contents
Introduction: The Story of Canada
1. Making Tracks: The Myth of the CPR
2. The Mild West: The Myth of the RCMP
3. Your Majesty's Realm: The Myth of the Master Race
4. The Infantilization of Quebec: The Myth of Unity
5. Divided We Stand: The Myth of Heroism
6. The Ideology of the Canoe: The Myth of Wilderness
7. Great White Hope: The Myth of North
8. Conclusion: History in an Age of Anxiety
As Canadians, we remember the stories told to us in high-school history class as condensed images of the past—the glorious Mountie, the fearsome Native, the Last Spike. National Dreams is an incisive study of the most persistent icons and stories in Canadian history, and how they inform our sense of national identity: the fundamental beliefs that we Canadians hold about ourselves. National Dreams is the story of our stories; the myths and truths of our collective past that we first learned in school, and which we carry throughout our adult lives as tangible evidence of what separates us from other nationalities. Francis examines various aspects of this national mythology, in which history is as much storytelling as fact. Textbooks were an important resource for Francis. "For me, these books are interesting not because they explain what actually happened to us, but because they explain what we think happened to us."
For example, Francis documents how the legend of the CPR as a country-sustaining, national affirming monolity was created by the company itself—a group of capitalists celebrating the privately-owned railway, albeit one which was generously supported with public land and cash—and reiterated by most historians ever since.
Similarly, we learn how the Mounties were transformed from historical police force to mythic heroes by a vast army of autobiographers, historians, novelists, and Hollywood filmmakers, with little attention paid to the true role of the force in such incidents as the Bolshevik rebellion, in which a secret conspiracy by the Government against its people was conducted through the RNWMP.
Also revealed in National Dreams are the stories surrounding the formation and celebration of Canadian heroes such as Louis Riel and Billy Bishop.
Not to mention the myth of the canoe, which has emerged as the mother image of our national dreamlife, the symbol of our oneness with a rugged northern landscape, a vehicle borrowed from our Aboriginal forebears and exploited by explorers such as Alexander Mackenzie, Simon Fraser, David Thompson, and Hudson's Bay Company's Governor George Simpson.
And as for Canada: our geography gives us a unique place in North America, provides an identifiable marker for Canadianness, even though most of us never travel "north."
National Dreams is a fascinating document that allows us to see the past in a shocking new light. Includes 50 b&w images.
Reviews:
"National Dreams has received far less attention than it deserves. It's a brilliant examination of our national myths."
— Richard Gwyn, Toronto Star
"Readable and challenging book."
— The Globe and Mail
"Deserves to be widely read."
— Montreal Gazette
Awards:
Chinese language rights sold in 2009.