Photographing British Columbia First Nations, 1860-1940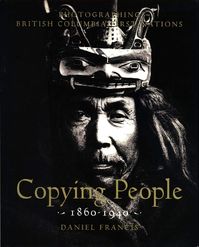 Table of Contents
Introduction
The Pioneers, 1860-1900
Peoples of the Coast
Peoples of the Interior
Selected Readings
Before the west was widely settled, photographs provided the first glimpse white society had of the aboriginal people who occupied the hinterlands of the continent. Copying People — a phrase borrowed from the Haida of the Queen Charlotte Islands that means "camera" — is a collection of historical photographs chosen from the vast number of images in museums and archives across North America. Taken by professional photographers, surveyors, anthropologists, civil servants, and tourists, these fascinating images show how early non-Native photographers "pictured" First Nations people and influenced the outside world's perceptions of them.
Many of these photographs attempt to document the "traditional" Indian, with their subjects dressed up in wigs, costumes, and other props provided by the photographer. In an effort to record for posterity what they viewed as a doomed race, the photographers helped construct the "idea" of the Indian in the collective mind of white society. Other photographers used images of Native people for commercial purposes, or pictured their subjects in suits and dresses, hoping to appeal to an audience eager for evidence that Natives were becoming "civilized."
Depicting Native societies under a great deal of stress at a time of tremendous change in their way of life and their environment, the photographs also reveal societies struggling to preserve their cultures and successfully adapting to new economic opportunities. And despite what we might think of their motives, many photographers produced images of remarkable power and enduring beauty.
Covering all of British Columbia, the book represents the work of every important photographer dealing with aboriginal people in the province before World War II.  With 140 archival images, Copying People offers a privileged glimpse of British Columbia's original inhabitants.