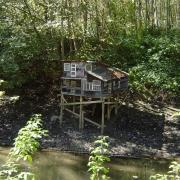 Yesterday found me strolling around the Maplewood Conservation Area in North Vancouver. The waterfront wetland is a mecca for bird watchers -- and we did see a pair of great blue herons and some ospreys along with dozens of smaller birds I was unable to identify -- but it was more the human history I was there for.
In the late 1960s and early 1970s the mudflats were home to a small community of hippie squatters and in 1972 they staged the Dollarton Pleasure Faire, a two-week celebration of the counter culture. Shortly afterwards the District government stepped in, evicted the residents and burned almost all the buildings. Ostensibly this act of vandalism was to make way for a shopping centre but one was never built and since the 1990s the Wild Bird Trust has managed the conservation area.
Last year Presentation House Gallery showed an exhibition of photographs documenting the Faire, and the squatter community, but earlier than that artist Ken Lum had constructed scale models of three of the shacks and this is what I had come to see. Lum's piece, titled "from shangri-la to shangri-la," is installed beside an old barge canal that runs through the conservation area -- see my photo above -- and of course references the extensive history of squatting in Burrard Inlet (which I've written about here).
It was a beautiful day for a walk.