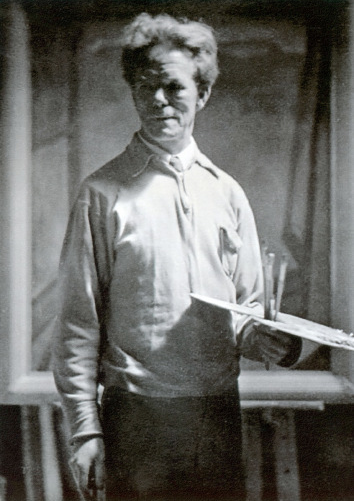 The Fred Varley cabin in North Vancouver is up for sale and this has sparked renewed interest in the famous artist's 10-year sojourn on the West Coast. Varley (that's him above) was a founding member of the Group of Seven, who are associated with eastern Canada, but he spent a very productive decade in the Lower Mainland shaking up the local art establishment.
Varley arrived in Vancouver in 1926 to take up a teaching position at the Vancouver School of Decorative and Applied Arts. The school, which evolved into today's Emily Carr University, had opened the previous year and attracted several leading artists to its faculty. By all accounts Varley was a dynamic instructor much admired by his students. He was also a vocal proponent of "modernism" in a city which was pretty unsophisticated when it came to the appreciation of emerging trends in modern art.
It was an exciting time in the city's arts history, with new forms of expression clashing with the entrenched orthodoxy, what Emily Carr called "the dead photographic art of the last century." Several major exhibitions sparked spirited exchanges in the local press. One journalist wrote, only half facetiously, that "a stranger coming to Vancouver during that period would have been convinced that the people of this city were more interested in art than the citizens of Florence, or Chelsea, or Montmartre…"
Varley, who was 45 years old and married with four children when he came to Vancouver, began a relationship with one of his young students, Vera Weatherbie, herself a talented painter. They used to enjoy hiking in the woods on the North Shore and on one of these outings they discovered a cabin near Lynn Creek. In the summer of 1934 Varley ended up renting the cabin, which the couple used as a getaway and studio. Some major paintings in the history of Canadian art were made there. Meanwhile Mrs.Varley remained in the city with the kids where they lived hand-to-mouth without much support from dad. 
In 1933, in the depths of the depression, the director of the VSDAA, Charles Scott, decided he had to reduce staff salaries to keep the school afloat. This exacerbated tensions that already existed between Scott and Varley and he and his colleague Jock Macdonald set up a rival school, the BC College of Arts. This new college was an active centre of the avant garde in the city but it was also financially unviable and closed after two years, leaving Varley penniless, without work and drinking pretty heavily. Vera got fed up with him and left town.
Finally, through the intercession of friends, Varley obtained a commission for work in Ottawa and in April 1936 he left Vancouver. He returned a couple of times for brief visits but basically his West Coast period was over. Meanwhile his family moved into the cabin, supported by a benefactor who paid the rent. Eventually Mrs. Varley was able to purchase the building.
As we should all know by now, historical "heroes" are complicated.