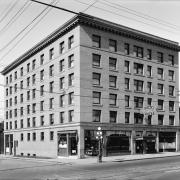 No one would ever claim that Vancouver is the birthplace of jazz. New Orleans usually gets that honour. But it is worth pointing out that Vancouverites were exposed remarkably early to that most American of musical forms.
Pictured above is the Patricia Hotel on East Hastings near Main (Courtesy City of Vancouver Archives AM1535-: CVA 99-187). Built just before World War One, the Patricia had a pool room that in 1917, the year this photo was taken, became the Patricia Café, managed by William Bowman. It soon established itself as the premier spot for jazz. "Word comes from Vancouver, BC," wrote one US paper, "that Bill Bowman's Patricia Cafe is the talk of the town."
In 1919 an itinerant pianist called Jelly Roll Morton joined the house band at the Patricia. He was joined by another jazz legend, Ada "Bricktop" Smith. In time Jelly Roll would depart for Chicago, and eventual fame, while Ada moved on to Paris where her cabaret, Bricktop's, was a celebrated nightspot favoured by American expat literati such as Ernest Hemingway and Scott Fitzgerald. But while they were in Vancouver they made the Patricia a red-hot attraction for the city's jazz lovers, and for American visitors looking to escape the stringencies of prohibition. British Columbia had its own prohibition, at least until 1921, but the city's clubs and bars had little trouble getting around the law, prompting one American reporter to observe: "That's a country where you can 'crook your elbow' and never be molested." 
Today the Patricia remains in business, and Pat's Pub carries on the tradition of offering live jazz.