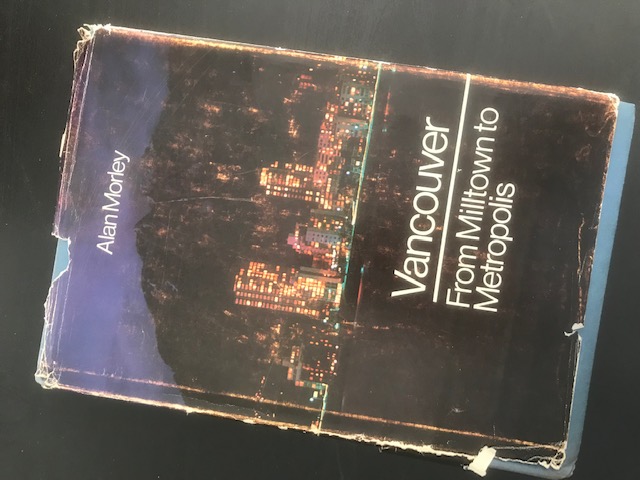 When I was a kid growing up on Vancouver's west side the book shelves in the living room of my family's home contained the usual middle-brow reading of the 1950s – Nevil Shute's apocalyptic nuclear novel On the Beach; the odd Thomas Costain and Pearl Buck title; some volumes of Reader's Digest Condensed Books. But the only book of my parents that I ever took down from the shelf was a copy of Alan Morley's history of Vancouver, From Milltown to Metropolis. (That's the very same volume above, now in my own library.) Published in 1961, MtoM was the first book about the city that I read. And now I've written my own (Becoming Vancouver, due out in September).
Certainly Morley's book had its failings. It tended to be a chronicle more than a narrative. (This year such and such happened; the next year such and such happened.) The prose was antique, even for its time. ("No story of Vancouver would be complete without culling a few flowers from the quiet meadow of these years," he begins his account of the 1870s.) He tended to gloss over the injustices and inequalities of the past. But MtoM was impressive in its own way, not least because it was proof that Vancouver deserved a book, which to a teenager like myself growing up there would not have been self-evident.
Morley might be called the city's first popular historian. When I went back to take a look at his book I discovered that it was based on a long series of newspaper articles that he had written 20 years earlier. Published as "The Romance of Vancouver", the series ran in the Vancouver Sun every day for four months between April and September 1940.
Morley had a long career writing for newspapers across Canada and the US. When "Romance" appeared, he was enjoying his first stint at the Sun. The series was based largely on colourful anecdotes collected by the city archivist, the legendary Major James Matthews. Morley did not apologize for writing "romance", not history. In his series, anecdote always trumps research and the heroic always takes precedence over the mundane. "The epic of the city's birth is a tale that rivals Homer," he assures his readers. The series was so well received that station CKWX turned it into a radio play and the Sun re-published it as a book.
Morley died of cancer in North Vancouver on Oct. 6, 1982, age 77. By then other, better histories of the city had found their way into print. But it is worth recalling him as the pioneer.