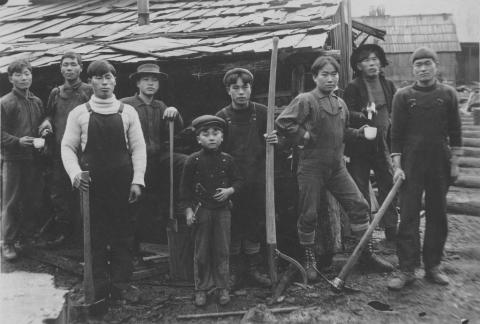 A couple of upcoming speaking engagements to tell you about.
First of all, on Thursday, January 25, at the regular meeting of the Vancouver Historical Society, I'll be showing images of and talking about the history of North Vancouver. That's at the Museum of Vancouver at 7:30 pm. (Image of Japanese loggers at Rice Lake, 1905, from North Vancouver Museum & Archives)
Then on Saturday, February 3, the Vancouver Heritage Foundation is hosting a fundraiser in the Prohibition Bar at the Rosewood Hotel Georgia, 6-8 pm. I'll be telling a few stories about the history of prohibition in the city and the province. As well, architect Robert Lemon will be talking about the restoration of this landmark building. Guests are encouraged to wear their best 1920s Jazz Age attire but I think I'll leave my Gatsby costume in the closet.