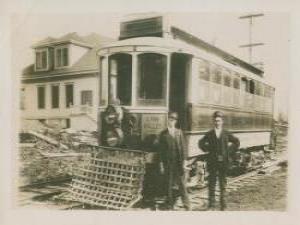 Here is a nice photograph that came my way today. It is from the collection of the North Vancouver Museum & Archives (#749) and shows Streetcar #32 on Lonsdale Avenue outside the Municipal Hall at First Street in about 1910.
Streetcars came to North Vancouver on Labour Day, 1906, when the BC Electric Railway Company opened a line up Lonsdale from the waterfront ferry dock as far as 12th Street. By the end of the year it was joined by a second line running east to Grand Boulevard (and eventually Lynn Valley). And by 1911 a western line ran all the way to the Capilano River, terminating close to where the Upper Levels Highway now crosses the river.
It was a very impressive system for such a small community and remained in operation for forty years until the trolleys were replaced by buses in 1947. All part of the story told in my new 125th anniversary history of the District of North Vancouver, Where Mountains Meet the Sea, coming in August.