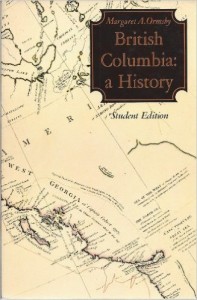 When I was a kid one of the only books about British Columbia on the family bookshelves was British Columbia: A History by Margaret Ormsby. I still own it, inherited from my parents and inscribed by the author. From its publication in 1958 (that's the cover of the paperback edition above), Ormsby's book was the definitive one-volume history of the province for many years, I suppose until it was supplanted by Jean Barman's The West Beyond the West in 1991.
Now Richard Mackie has launched The Ormsby Review, a new on-line magazine named for the venerable historian. In collaboration with Alan Twigg, the editor of BC Bookworld, Mackie will offer a selection of reviews of books on local history and literature, including the occasional contribution by your's truly.
You can begin by reading Richard's memoir of his occasional meetings with Ms Ormsby at her Okanagan home.