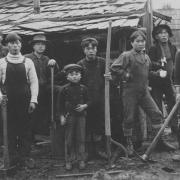 It may be Friday the 13th but it is a lucky day for me. My latest book, Where Mountains Meet the Sea, An Illustrated History of the District of North Vancouver, has gone to press. Now the waiting for final printed copies begins.
(This image from the book shows a Japanese logging crew at Rice Lake in the upper Lynn Canyon area in 1905.Courtesy North Vancouver Museum & Archives 26-19E-7) 
The book commemorates the 125th anniversary of the District and was commissioned by the museum. As always the gang at Harbour Publishing have been a pleasure to work with.
I'll be giving an illustrated talk based on the book in late June. Watch this space for details.