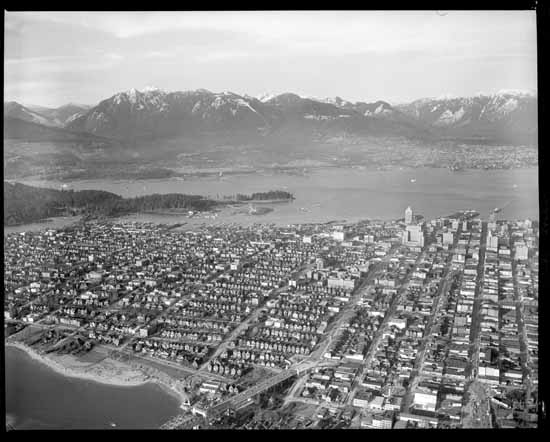 Speaking of Vancouver in the Fifties, as I was last time, I was struck recently by this photograph from the archives (Vancouver Public Library 81817). It shows the city's West End looking north across Burrard Inlet to the mountains. You can see that there are pretty well no tall buildings west of Burrard Street, which is the main thoroughfare running north from the bridge.
The photo was taken in 1952, just a few years before the first high rise residential tower went up in the West End. In 1956 the city did away with the six-storey height restriction on buildings, setting off a building boom that lasted two decades. By the time it was over, in the early 1970s, the West End had become the neighbourhood of soaring concrete towers familiar to us today. Between 1956 and 1976 developers built 181 high rises; that is, buildings between ten and 32 stories.
Today the West End is considered a very attractive neighbourhood, close to Stanley Park, to downtown shops and jobs, to the English Bay beaches and the Coal Harbour seawall. I am envious every time I stroll through it. So it is hard to remember that at the time the high rise boom was considered a bit of a mistake. Supposedly densification led to traffic congestion, unfriendly streets, crime, etc. That's why the "reform" city council elected in 1972 brought the building frenzy to a halt. Now, of course, it is considered the precursor of the high-density downtown living that is celebrated as "Vancouverism."
Anyway, the photo captures the low-rise city just before its transformation into the City of Glass, which is why it appeals to me.