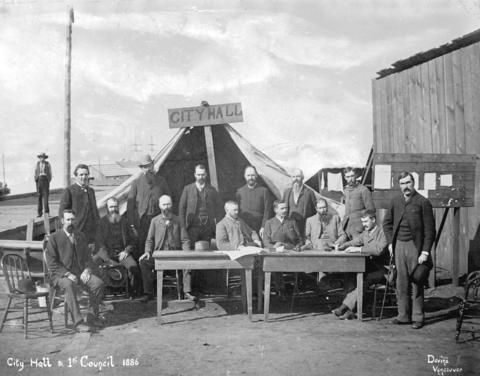 Many years ago when my father retired from his private medical practice he removed from the walls of his office a set of photographic prints depicting the early days of Vancouver. He dispersed the prints among his four children and I displayed mine on the walls of different homes as I moved about the country until I either grew tired of them or they disappeared during one or another uprooting.
One of the prints was this very familiar view of Vancouver city council assembled outside a tent in the aftermath of the great fire which destroyed most of the city in 1886. (Source: City of Vancouver Archives, AM54-S4-:LGN 456) David Mattison, the historian of early photography in the city, calls iconic images like this one "visual legends."
Nine days after the fire, which occurred on June 13, council resumed its business in this tent, erected near the wharf at the foot of Carrall Street  For a long time it was assumed that the photo captured this moment, an industrious group of City Fathers getting back to work, undeterred by the disaster that had overwhelmed them. However further research revealed that the scene was re-created several months later, on September 8, by the photographer Harry Devine, making it more a commemoration than an actual visual record.
I sometimes wonder if long exposure to this image is what slowly kindled my interest in the history of the city. A visual cliche, certainly, but in my case a powerful one.
Footnote: The only person in the scene not associated with city government is the man standing by himself off to the left at the foot of the telegraph pole. That is George Gibson, after whom the tiny community of Gibson's Landing is named. In town for the day to pick up supplies, he pauses to watch the dignitaries and becomes part of what generally is considered to be the most famous photograph in Vancouver history.