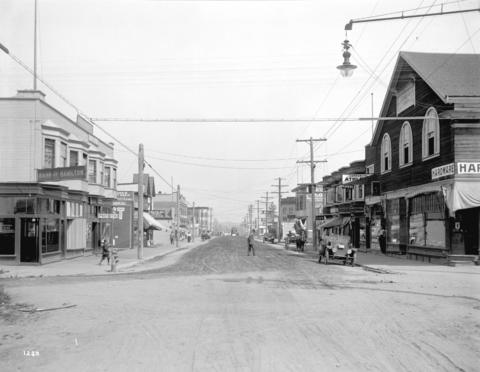 My pal Steve and I meet regularly for coffee at the Commercial Street Cafe in the beautifully restored Gow Block. Back in the day this neighbourhood used to be known as Cedar Cottage and Commercial was its high street. That's it above, pre-World War One. (Photo courtesy of City of Vancouver Archives LGN504) The interurban tram connecting downtown Vancouver to New Westminster had a station nearby.
A realtor named Walter Gow built the Gow Block in 1911 and the place where we sip our cappuccinos was originally a branch of the Bank of Hamilton (as shown in the photo on the left; our favorite table is in the window overlooking the sidewalk). On Saturday, August 24, 1912 at almost nine o'clock in the evening a trio of gunmen held up the bank. They disguised themselves with red handkerchiefs over their faces. Because of their accents, witnesses described them to the press as "foreigners beyond a doubt." Gunfire broke out inside the bank -- at least one bullet penetrated the wall into Mrs. Branbury's bakery next door -- and the men emerged with a sack containing several hundred dollars.
Outside they were joined by three confederates. By this time police constable Winter had arrived. Shots were exchanged and the robbers made their escape on foot down the street that crosses the photo in the foreground. One of the men was apparently wounded but in the end they all got away. A subsequent manhunt through the area came up empty-handed and as far as I know none of the robbers was ever captured, nor the money restored.
After the bank moved out in the 1930s, the location was a corner grocery store until new owners began a makeover of the entire building in 2005. The other day the manager of the coffee shop took the time to show us the old bank vault off a narrow corridor at the back of the cafe, still there 110 years later.