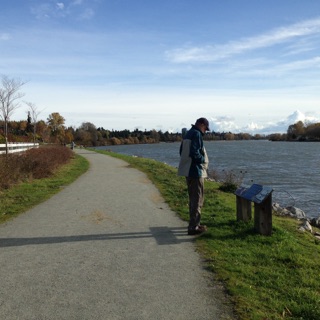 What better way to spend a sunny, blustery Sunday than to go in search of historic sights? Which is why my companion and I were down along the Fraser River trying to get a look at the remains of the old Celtic Cannery, all in aid of a history of Vancouver upon which I have set sail. The original buildings still exist, though they are behind a fence on private property and I did not have the nerve to trespass.
The cannery opened in 1897 on the north arm of the river close to the Musqueam reserve. In 1902 it joined the BC Packers empire and continued operations until 1917. This was one of the very few Fraser River canneries within the limits of the city of Vancouver. Most of the others were out Steveston way or up toward New Westminster. (Technically I suppose the Celtic wasn't in Vancouver either since until 1929 the city did not extend south to the river; this area was the municipality of South Vancouver and then Point Grey.)
In 1927 the old cannery morphed into a boatyard where BC Packers maintained and built fishboats for its fleet until the mid-1980s. There was another boatyard next door to the east, operated by the BC Forest Service, just about where I'm standing in the photo above. It, too, closed in the mid-1980s. As you can see, the riverfront is a trail now. There are luxury homes behind that white fence and in the distance, a golf course.
The old cannery/boatworks must comprise some of the oldest industrial structures left in Vancouver. I wonder how they have escaped the wrecker's ball and the developer's bottom line.