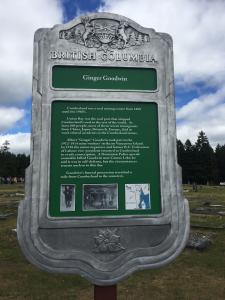 The debate about revising the historical reputations of some of our "founding fathers" and the consequent removal of street names, statues, etc. is an important and complicated one. But sometimes it descends into farce.
A case in point is a stretch of highway outside of Courtenay on Vancouver Island. In 1996 Glen Clark's NDP government christened a part of the Island Highway Ginger Goodwin Way. Goodwin was a draft resister and labour activist gunned down by a provincial police officer in the woods near Cumberland, which is near Courtenay, in 1918. His death sparked a protest which is sometimes considered Canada's first general strike. He is a labour martyr and a natural candidate for the NDP to memorialize.
When the more right-wing Liberals came to power in the province in 2001 one of the first things they did was remove the signage referring to Goodwin. Much like Trotsky was airbrushed out of Kremlin photographs, Goodwin was disappeared from the provincial road atlas.
But wait. This spring, with the NDP returned to power, Goodwin got his highway back. The signs were dusted off and Ginger Goodwin Way is back on the map. No editorials about the dangers of rewriting history; no complaints about political correctness. Just an order to the ministry of transportation and the deed was done.
It reminds me of another occasion when road signs were used to fight a political battle in BC. In 1971 Premier W.A.C. Bennett, angry that the federal government did not contribute more to highway upkeep, ordered the removal of all road signs identifying the Trans-Canada Highway in the province and had them replaced with signs that said British Columbia #1. For about a year the Trans-Canada did not cross the Rockies. Once again it took a change of government before the national signs were put back in place and BC rejoined Confederation.