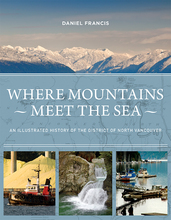 In case you've been waiting for the news,  the ballots have been counted and my history of North Vancouver, Where Mountains Meet the Sea, has won the community history prize awarded by the BC Historical Federation at its annual meeting, this year held in Chilliwack.
The Federation threw a great banquet on Saturday night and Sunday morning I got a chance to have breakfast at the historic Royal Hotel, serving customers since 1908.
Thanks again to the folks at the North Vancouver Museum & Archives whose help made the book such a success.