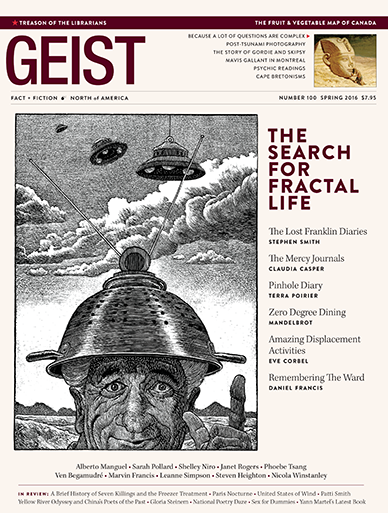 A wonderful new book about The Ward neighbourhood in Toronto (The Ward: The Life and Loss of Toronto's First Immigrant Neighbourhood) from Coach House Books prompts me to wonder if non-historians are breathing new life into urban history. Read all about it in the new issue of Geist magazine, on newsstands now.
This is the 100th issue of Geist, which by my calculation amounts to 25 years. The landmark should not be allowed to pass without acknowledgement. It is impossible to overestimate just what an accomplishment it is to keep a literary/cultural magazine going, in Canada, for a quarter of a century. The word shoestring comes to mind.
Kudos to Steve Osborne and Mary Schendlinger, who founded and published the mag for many years, and to Michal Kozlowski and AnneMarie MacKinnon and the new gang who have taken up the torch.