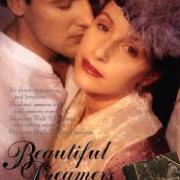 Last week a friend sent me a link to the 1990 Canadian-made movie Beautiful Dreamers so that I could watch it online.
The film tells the story of the friendship between Richard Maurice Bucke, the London, Ontario, "mad doctor," and the American poet Walt Whitman. Colm Feore plays Bucke and Rip Torn plays Whitman.
It is, as they say, based on actual facts. Bucke and Whitman were close friends -- Bucke wrote Whitman's biography and was one of his literary executors -- and the poet did pay a visit to Bucke at his London asylum in 1880, which is the focus of the movie. However if you are thinking of viewing the film you should not rely on much that it says about the details of Bucke's career. Most egregiously, Bucke is presented as an opponent of the practice of sexual surgery on female inmates when in fact he was almost the only doctor in Canada to endorse and practise this approach.
Anyway, one doesn't look to the cinema for historical accuracy and Beautiful Dreamers does convey a good sense of the relationship between the two main characters.
An interesting footnote: the actress who portrays Bucke's wife Jessie, Wendel Meldrum, (that's her in the poster) is perhaps most famous for playing the clothing designer who makes Jerry Seinfeld's pirate shirt in the hilarious "puffy shirt" episode of Seinfeld.