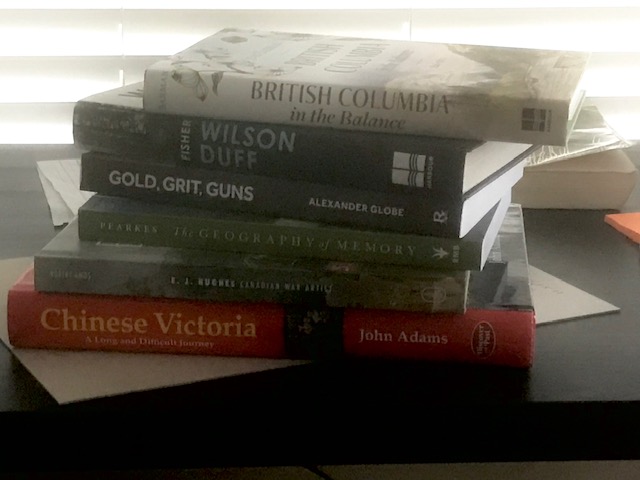 The BC Book Prize nominees for 2022 have been announced (here) and there are not many history/biography titles on the list this time around. The only books I would place in that category are The Acid Room (Anvil Press) by Erika Dyck and Jesse Donaldson, about the use of LSD at a clinic in New Westminster to treat psychiatric conditions during the 1950s and 1960s, and Cold Case BC (Arsenal Pulp Press) by Eve Lazarus, about a variety of unsolved murders in the province. Otherwise, mainly memoirs and natural history.
Which does not mean that few good history/biography titles were published. Only that prize juries are not favouring them. So, as a public service, let me mention a few books that I enjoyed last year (in no particular order).
E. J. Hughes: Canadian War Artist (Touchwood) by Robert Amos. A beautifully illustrated account of the beloved painter's career during World War Two. How this gorgeous book did not rate a prize nomination is beyond me.
Gold, Grit, Guns: Miner's on BC's Fraser River in 1858 (Ronsdale Press) by Alexander Globe. The history of the famous gold rush told through the previously-undiscovered diaries of four miners.
Wilson Duff: Coming Back, A Life (Harbour Publishing) by Robin Fisher. Terrific biography of a key figure in the evolution of anthropology and Indigenous art in the province.
British Columbia in the Balance: 1846-1871 (Harbour Publishing) by Jean Barman. BC's leading historian gives her take on the origins of the province.
The Geography of Memory (Rocky Mountain Books) by Eileen Delehanty Pearkes. A study of the Sinixt First Nation, once declared "extinct" by the federal government but very much alive.
Chinese Victoria: A Long and Difficult Journey (Discover the Past) by John Adams. An impressive, full colour, encyclopedic history of the capital's Chinatown.
Just a few notable titles to remind you that the writing of history is very much alive on the West Coast.