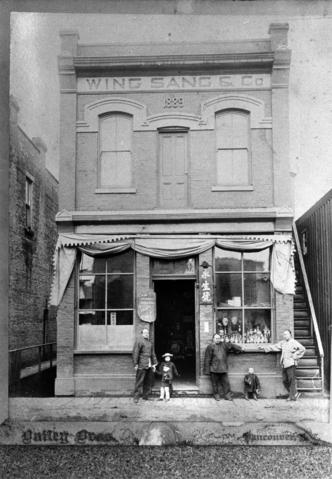 The 1907 anti-Asian riots are remembered as one of the most shameful episodes in Vancouver's history. A crowd of several thousand people gathered at city hall to support a rally against Asian immigration. Following the meeting a mob descended on Chinatown, trashing businesses and threatening residents, before moving on to Powell Street to attack the Japanese community. (The photo above, City of Vancouver Archives AM1108-S4-689-51, shows some of the damage.) Violence continued for a couple of days and tensions ran high in the city for several more.
All of this is captured in an interactive online walking tour at 360riotwalk.ca by the artist Henry Tsang. Viewers can follow the route of the initial protest march and visit the major landmarks with a soundtrack in four languages. As well there are several articles at the site putting the 1907 events in context.
I recommend experiencing the walk online but I do not recommend actually visiting the neighbourhood at the moment. The 1907 demonstration went right through the heart of what is now the Downtown Eastside which is experiencing high levels of stress. I took a walking tour of the Powell Street area myself earlier in the summer and felt that residents were understandably resentful of what appeared to be a bunch of rubberneckers invading their neighbourhood. If you do go, be respectful of people's privacy.
Apparently the project will be published as a book in the New Year.
UPDATE: It has been 115 years since the riots and Vancouver has its first Asian-Canadian mayor. On October 15 Ken Sim, a local entrepreneur, defeated incumbent Kennedy Stewart to win the mayoralty.