October 2017
Last week CBC Radio called to invite me onto a noon call-in segment to discuss the re-naming of Siwash Rock in particular and the question of place names in general. Being preoccupied with rehab (see below) I could not accept the invitation but if I had I might have suggested to listeners that they ask themselves: What would Major...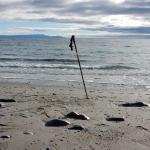 This space has been silent lately as I recover from knee replacement surgery. Rehab is a fulltime job.
Back soon. In the meantime, Happy Thanksgiving from the wet coast.